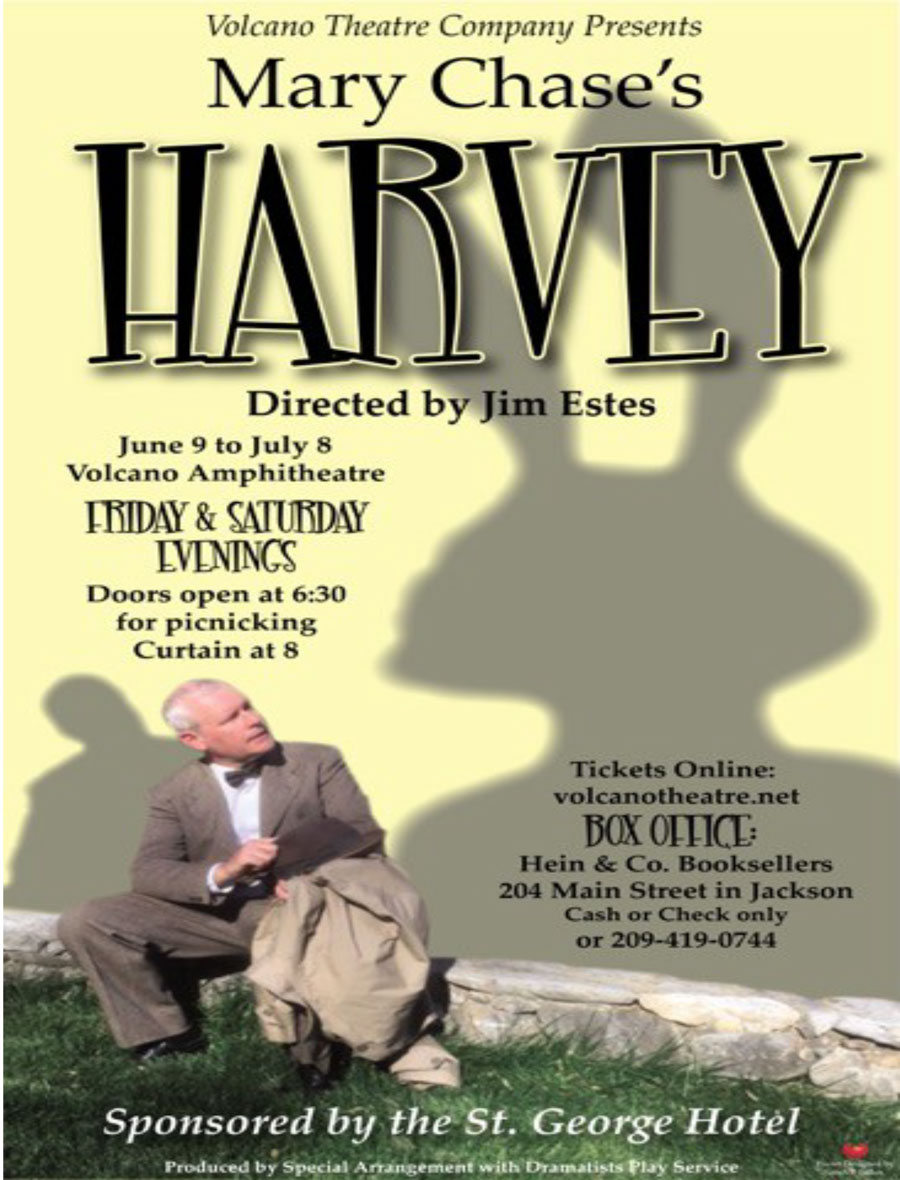 Elwood, a man who truly enjoys life and everyone around him, travels each day with his friend, Harvey.  The only problem is that Harvey is a 6 1/2 foot-tall invisible rabbit!  A comedy classic about family relationships, misdiagnosed insanity, and an eventual realization that a love for family is the most important thing of all.
This Production Has Ended
The following have won awards for their part in the play!  Congratulations!
Poster:  Sarah Tullus,  Set Design:  Jim Estes,  Set Decoration:  Alicia Barber.
Cast
Elwood P. Dowd – Robert Schell
Veta Louise Simmons – Kimberly Pearlman
Myrtle Mae Simmons – Alana Hein
Mrs. Ethel Cahuvenet – Gina Serna
Miss Johnson – Jessica Blankenship
Lyman Sanderson, M.D. – Shawn Fourby
Ruth Kelly, R.N. – Alyssa Rehart
Duane Wilson – Sidney Cohen
William R. Chumley, M.D. – Rocky Lane
Betty Chumley – Roxanne Fausett
Judge Omar Gaffney – Calvin Clements
Nurse Dumphy – Shannon Whitaker
Crew
Director – Jim Estes
Producer – Paula Bibby
Lights and Sound Design – Bob Duzdevich
Light and Sound Operator – Bob Duzdevich
Script Holder – Shannon Whitaker
Script Holder – Jessica Blankenship
Set Design – Jim Estes
Set Construction – David Bibby
Set Construction – Dave Fredericks
Set Construction – Chuck Hagyard
Set Construction – Mark Clinton
Set Construction – Paula Bibby
Set Decorator – Alicia Barber
Poster Design – Sarah Tullus
House Manager – Patti Fredericks
Stage Manager – Shannon Whitaker
Stage Manager – Jessica Blankenship
Paint Crew – Alicia Barber
Paint Crew – Pearly Tyson
Paint Crew – Judy Elliott
Paint Crew – Kathleen Harmon
Paint Crew – Amber Adams
Paint Crew – Hana Krieshok
Paint Crew – Kimberly Pearlman
Paint Crew – Sue Haldane
Paint Crew – Karen Rovane
Paint Crew – Jim Estes
Paint Crew – Paula Bibby
Costumes – Kathleen Rich
Costumes – Pearly Tyson
Costumes – Robin Rehart
Costumes – Dana Hein
Hair and Makeup – Jenny Oxier
Opening Night Party – Debbie Robinson
Opening Night Party – Toni Linde