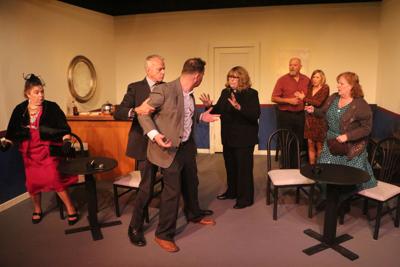 It's the second show of the season for Volcano Theatre Company, and for me that meant another trip to Volcano, this time to the Cobblestone Theatre, 16138 Main Street in Volcano, to catch Sutton Vane's, Outward Bound.
It had been a long week, and I am more of a fan of comedies than dramas. Not knowing what was in store for the visit to Volcano, my wife and I made our way to Volcano early to catch dinner. For the record, I have reviewed or published my thoughts on the offerings of Volcano based on our last trip. Wondering if it was just a good night, or if we were in for as great a time as we had last time, any fears of a less than stellar evening were put to rest quickly at dinner before the show at the Volcano Union Pub + Inn, 21375 Consolation Street in Volcano. To be blunt, it was one of the best meals I have had in ages. Followed by a beverage at Country Store, 16146 Main Street in Volcano (well, maybe a second beverage as Volcano Union Pub + Inn is well stocked in an amazing variety of beverages). THE FOOD! The trip to the small town of Volcano is worth it for these two locations alone. Get to Volcano, you are missing out!
Before we get to the show, let's discuss the Cobblestone Theatre. This is the first show since pre-COVID, and the entire theatre has been remodeled. A couple steps up, you sit in an amazing little theatre that has all new floors, all new chairs, all new — ALL NEW! Volcano Theatre Company did an amazing job renovating the theatre without losing the charm of this unbelievable tiny theatre. Now, tiny isn't a slam here, you literally get to watch a show so close that every nuance, every performers action and reaction, unfolds so close in front of you, that you can't miss a single thing. Which of course means every cast member had better be spot on. The chairs are fantastic, and despite my ever ballooning waistline from dinners at culinary gems (see above), I found that about the time I might be feeling uncomfortable — an intermission. Which is to say, this theatre is awesome, uniquely Amador — and a show at the Cobblestone Theatre, just for the experience alone is a must.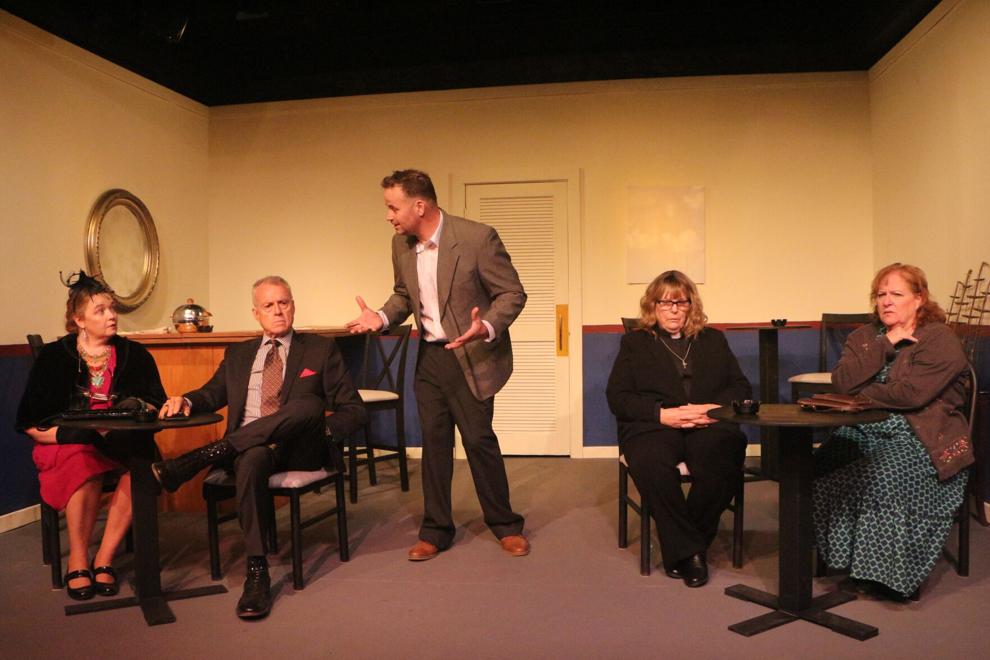 Now on with the show! I was unfamiliar with Sutton Vane's Outward Bound and as previously mentioned, not being as enamored by dramas, was worried a heavy evening was on its way. I couldn't have been more wrong. There are no heavy or dragging moments in this show. The cast is perfect as it lays out surprise after surprise. Without giving away the show — rather than a drama, this one is more like a Twilight Zone meets Outer Limits, which comes together beautifully in a cast that weaves a story with dramatic moments, subtle humor, as well as playing off each others strengths in well thought out characters. There are definitely moments to laugh, moments of surprise, and yes, moments of drama. However, rather than leaving feeling wiped out by a show, I left this one smiling and it drove the conversation of the evening as my wife and I discussed the various aspects of the show, and actors nuances and performances we loved.
Geoff Charles who plays Mr. Lingley, with a booming voice and I'll say it — fantastic eyebrows — gives a terrific performance that was a highlight for me. I'll be looking to see what he is in next, as he definitely is a talent. There is a great charm, disgust, and humor in Mrs. Cliveden-Banks played by Arleen Kingston. Roxanne Fausett, a VTC veteran, and one who I should mention I shared the stage with in Wizard of Oz several years ago, has grown immensely in her talent as an actress and has terrific moments. She has a presence on the stage that is amazing. The interactions between Scrubby, played by Steve Cannon and Tom Prior, played by James Dove, are also inspired performances. In Fact, the entire cast should be very proud of this show and what they bring.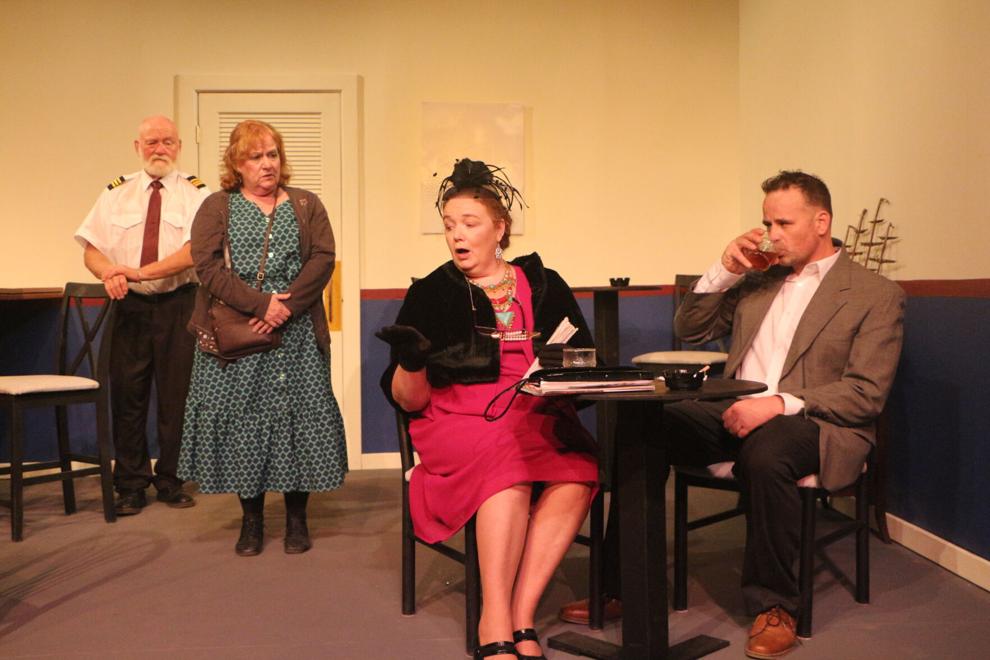 The best way to critique a show is to ask yourself if you would be willing to see it again. I'm glad I didn't miss this show, and certainly would go and see it again. Do yourself a favor and get to Cobblestone Theatre and catch Outward Bound for a surprising adventure. It is playing Fridays and Saturdays through October 16 at 8 p.m. with Sunday matinees at 2 p.m. Tickets are available by visiting www.volcanotheatre.net.