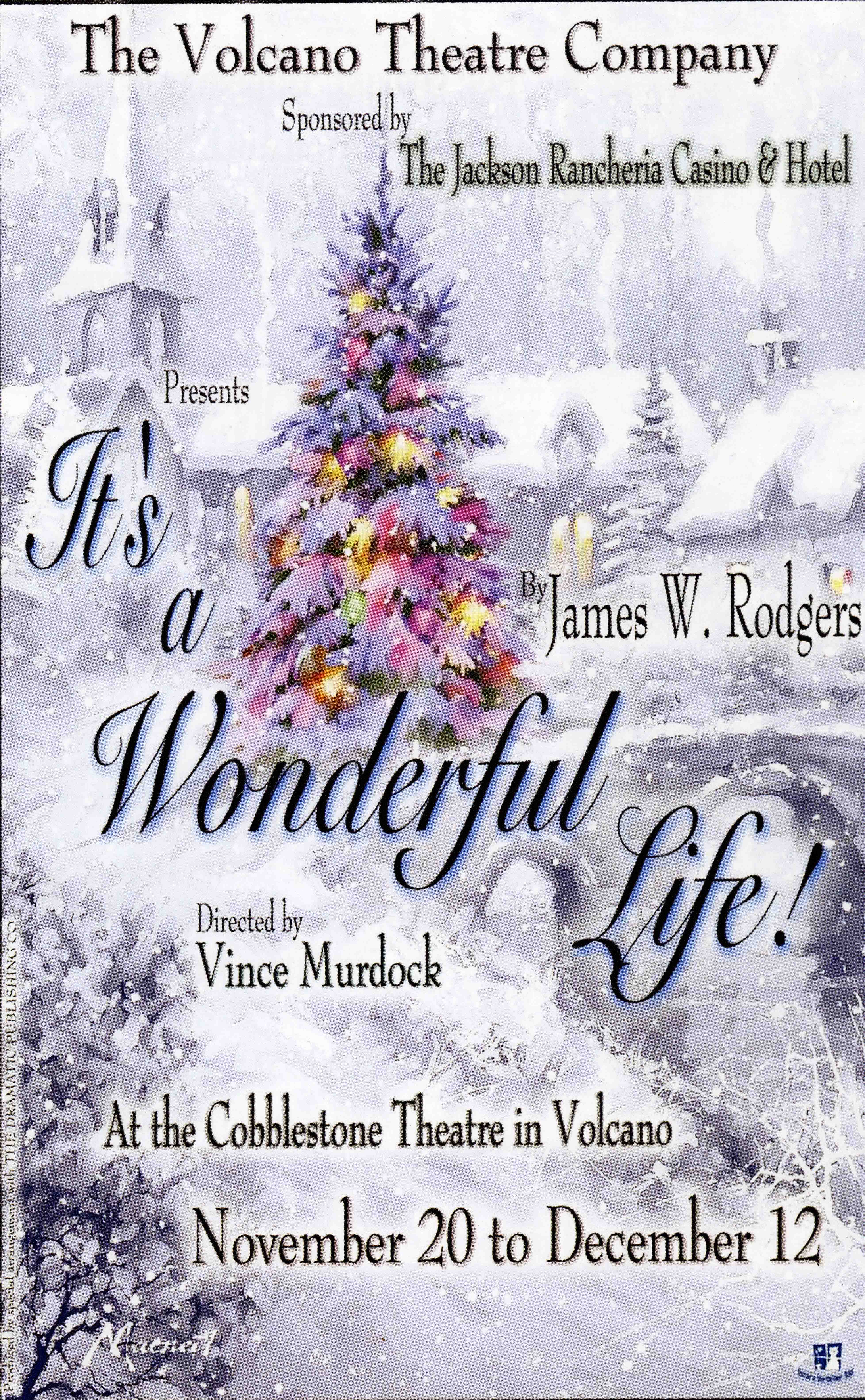 The saga of George Bailey, the Everyman from the small town of Bedford Falls, whose dreams of escape and adventure have been quashed by family obligation and civic duty, whose guardian angel has to descend on Christmas Eve to save him from despair.
November 20 – December 12, 2015
This Production Has Ended
Cast
George Bailey – Charles Peden
Clarence Odbody – Jim Estes
Mr. Gower – Vince Murdock
Young George/Pete Bailey – Luke Murdock
Ma Bailey – Joan Erikson
Aunt Tilly – Arleen Kingston
Violet Peterson – Madison Peden
Bert – Andrew Mees
Ernie – Zach Craig
Uncle Billy – Rocky Lane
Mary Hatch – Jessica Blankenship
Mr. Potter – Marcus Gouveia
Potter's Goon/Secretary – Lily Murdock
Mrs. Hatch/Ms. Andrews – Haley Dacier
Sam Wainwright/Mr. Welch – David Reimer
Mrs. Thompson – Cidney Jane
Miss Carter – Gina Loiler
Newspaper Boy – Brycen Reimer
Tommy Bailey – Aiden Carter
Zuzu Bailey – Jacquie Garcia
Janie Bailey – Maya Peden
Townsperson – Ben Caerter
Harry Bailey – Jermiah Vela-Murphy
Mr. Martini – Roque Mireles Jr.
Mrs. Martini – Maya Mireles
Little Girl – Maeve Nancy Clinton
Crew
Director – Vince Murdock
Assistant Director – Heidi Peden
Producer – Vince Murdock
Stage Manager – Heidi Peden
Set Design – Vince Murdock
Set Decoration – Karen Rovane
Set Construction – Charlie Foyil
Set Construction – Vince Murdock
Set Construction – Bob Duzdevich
Set Construction – Dave Bibby
Set Construction – Dave Fredericks
Set Decoration – Alicia Barber
Set Decoration – Heidi Peden
Set Decoration – Jan Molin
Set Decoration – Connie Murdock
Costumes – Kathleen Rich
Costumes – Perley Tyson
Costumes – Allison Hollen
Light Design – Bob Duzdevich
Light Design – Vince Murdcok
Sound Design – Vicki Wertheimer
Sound Design – Vince Murdock
Tech Operations – Vicki Wertheimer
Photography – Vince Murdock
Poster – Vicki Wertheimer
Marquee/Outdoor Decorative Signage – Vicki Wertheimer